More colours available
Please note images are for illustrative purposes only and do not reflect the specific product options chosen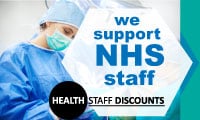 Tilt-in-Space Single Rise & Recliner specifications: 
Max weight 20st/130kg
Max seat width 20"
Max seat height 20"
Max seat depth 20"
Max back height 28"
Max arm height 7"
Covering - standard upholstery or leather
Delivery Terms
The lead-time for our standard chairs and furniture is up to three weeks and for our bespoke chairs and furniture and adjustable beds, it's up to four weeks. Walking sticks and rollators will usually be with you in three to four days.
Should a walking stick or rollator be out of stock for any reason, we will inform you as soon as possible of the expected date the goods will be available and give you the opportunity to decide whether to select an alternative or wait for the original item. Alternatively you can ask for a refund.


Delivery Charges
The delivery charge for orders under £100.00 excluding VAT is £7.50. Orders over £100.00 excluding VAT are inclusive of our standard delivery option.


Standard Delivery
Standard delivery for our chairs, furniture and adjustable beds is handled by a third party and includes 'kerbside delivery'. This means that they will drive to the nearest access point possible to your address and you will be required to collect your goods from there. 
Please note that you will not receive any assistance from the driver to get the products into your home. If this causes any concerns for you, we would highly recommend considering our 'white glove' delivery option.
White Glove Delivery Service
We also offer an optional 'white glove' service. For a small additional charge we will bring your product into your home to the room you want it in, unpack it, carry out any required assembly, check the product is working correctly, give you some instruction on how to use the product then remove all the packaging materials for you. This service is available for just £175.00 + VAT. This is for delivery to one address only, but applies to any number of items.

Please note: For our 'white glove' service, it is your responsibility to make sure that there is clear access for the delivery team to the room you want the item delivered to. It is also your responsibility to ensure that the item purchased will go through your doorways and up any stairs. We will not accept any goods back because they cannot go through doorways or up stairs. 
Removal service
If you select our 'white glove' delivery service we can also take away your old chair or bed for a small charge. Our charges for this service are as follows:-
Beds £50
Chairs £40
Settees £80
Mattresses £40
If 2 men required this is an additional £75.00
Please note that we may need to contact you prior to delivery to gain more details about the product to be recycled e.g. bed type.
Delivery Locations
The above standard and 'white glove' services and charges apply to all of the UK with the following exceptions: 
Northern Ireland

The Isle of Man

The Isle of White

The Scottish Highlands

The Scottish Grampians 
Please contact us to discuss delivery options and charges for these areas.
You might not know all the ins and outs of what our riser recliner chairs can do. And that's fine, it can get quite technical.
That's why we wanted to discuss the different features each of our riser recliner chairs have to make the decision you have to make, an easy one.
Whether it's dual motor riser recliner chairs or variable angle lifts, we've got all the information covered below to help you choose the right chair for you and your needs.
Should I choose a single or dual motor riser recliner chair?
Single motor riser recliner chairs:
Single motor chairs have one motor that moves the backrest and footrest simultaneously. As you recline the chair, the backrest lowers and the footrest rises. As you bring the chair out of the recline position, the backrest moves up and the footrest down, prior to the chair continuing its motion into the rise position if the button is held down.
Although the simplest to operate as there are only two buttons, single motor chairs do not offer the same number of possible seating positions as dual motor chairs, so it's important to ensure that you get advice before making your decision.
Dual motor riser recliner chairs:
As the name suggests, a dual motor riser recliner chair has two motors, one that controls the backrest and one that controls the footrest. This means you can adjust the backrest and footrest independently, allowing an infinite number of positions to be achieved. 
Would you benefit from a variable angle lift (VAL) chair?
This option may be beneficial for patients with certain medical conditions. It allows the seat angle of the chair in the raised position to be adjusted from the standard 30° to 20° or 10°. This lower seat angle means that you are in a more upright position prior to standing. 
The VAL option is available on both single or dual motor chairs for most seat sizes. 
Selecting the back style for your bespoke riser recliner chair:
A removable, flat, fibre-filled back that can be filled as required to allow for a personalised level of comfort and support to be achieved. The zip allows for easy access and adjustment.
Offers large, supportive wings with a cascading waterfall back for optimum comfort and postural support. This style ensures the cushions are held in position and enables you to create your own personalised comfort whilst helping to maintain posture.
This chair has a fibre-filled pillow back which is removable. Wings and generous lateral cushions support the back, shoulders and hips when reclined and can be very beneficial for those who need additional trunk support.
The sleek button back creates a look that is both neat and elegant. 
Selecting the arm style for your bespoke riser recliner chair:
Square
A stylish, contemporary design which provides maximum support.
Rounded edge
A contemporary curved alternative to the square arm providing sturdy support. 
Flat 
A truly modern and practical arm style, which offers plenty of support.
Scroll
A modern alternative to the traditional scroll arm.
Rounded retro
An arm style which adds a stylish twist to the chair.
Knuckle
A practical option for those who need a robust, stable support to assist into a standing position.
Selecting your fabric:
Standard upholstery
Our standard upholstery fabric is a plush fabric with a soft, velvety texture. It's available in 44 modern and vibrant colours and is washable at 30°.
Waterproof upholstery
Our vinyl upholstery ranges are waterproof, fire retardant and feature enhanced antimicrobial and stain resistance.
Leather upholstery
There's nothing quite like the sumptuous, soft feeling of quality leather. Our leather comes from one of the world's leading leather producers.  Please remember that as a natural product, leather will often display traces of its past such as brand marks, scars, growth lines, veins, and areas of differing fibre density. These hallmarks in no way detract from its natural beauty.
Ultraleather® upholstery 
Ultraleather® offers ultimate classic styling, redefining the experience of leather. This leading performance fabric is highlighted by a natural grain appearance and an extensive colour offering, providing limitless design options. It offers unrivalled softness and an understated look in a material that is proven to endure.
Please contact us if you have a fabric in mind that is not featured as we have a very wide range of options available. 
Measuring for your chair
For our bespoke riser recliner collection you are able to specify five different measurements to ensure your chair is just right for you.
(Note: Extend back height (D) to top of the head. Remove G 
When taking these measurements, always ensure that the person who will be using the chair is wearing their normal footwear.
Seat width (A):
In a seated position, measure from the widest point to the widest point of the bottom. Add 5cm/2" to this measurement to determine the ideal seat size.
Seat depth (B):
Make sure the bottom is positioned as far back in the chair as possible. Measure from the rear most position of the bottom to the back of the knee. The required seat depth is usually 2.5cm/1" less than this measurement. However, as a general rule, you should be able to place two fingers between the back of the knee and the front of the seat cushion.
Seat height (C):
This is the measurement from the floor to the back of the knee.
Back height (D)  - extend to above to the top of the head
The ideal back height is one that is tall enough to adequately support the head.  Measure from the top of the seat cushion to the top of the head.
Armrest height (E) 
To determine the ideal armrest height, the arms should be in a position such that the shoulders are not in a raised or dropped position. Measure from the top of the seat cushion to the top of the armrest.
Pretty much everything and anything can be customised on our chairs to give the user the most comfort and support they need throughout the day.
Whether it's a massaging heat pad, a removable cushion or a head pillow, with fully customisable options, we give our customers the option to select what they do and don't want in their chairs.
So take a look at all the different customisable features available for all our chairs.
Options
Massage & heat: 
Our massage and heat option adds a new dimension to your seating experience. The massage option delivers a range of different modes, speeds and intensities. You can select either a five zone system (targets upper back, lower back, hip, thigh and calf) or a three zone system (targets upper back, lower back and hip). The heat function can be combined with massage or used independently and has two settings, high or low.
Side transfer (removable) arms: 
To facilitate easy transfer into a chair from a wheelchair, you can select the option of having lift-off, removable arms to one side or both sides of your chair.  
Removable seat cushion: 
This option allows alternative seat cushion options to be used for enhanced pressure area care. 
Pressure area care seating: 
For users who are deemed to be at increased risk of pressure ulcer development, a higher performance seating system can be selected for the seat and leg sections. The options include Vasco foam, gel or a dynamic air option.
Battery back-up:
Useful in the event of a power failure, the battery backup will allow normal operation of the chair without mains power.
Fabric protection:
Our industry-leading fabric protector will extend the life of your chair's fabric and help protect against stains and dirt.
USB charging port: 
This useful option allows you to charge your electronic devices from the comfort of your chair.
Accessories:
Head pillow: 
A soft, padded head pillow to add additional comfort and support.
Head cover (antimacassar):  
A removable fabric cover to protect the headrest of your chair.
Arm caps:  
Removable caps to protect the arms of your chair.
Scatter cushion:
Coordinating cushions to match or coordinate with your chair. 
As a proud member of the British Healthcare Trades Association, we want to make sure that our customers are receiving the best service from us as possible.
This means if you want to book a home assessment, one of our representatives will come to your home and help you our your family member, choose the right riser recliner chair that's suitable for you or their needs.
So book online today to start the process of getting your brand new riser recliner chair to help give you or your loved ones the support they need.
The right seating can literally transform your life when you are living with reduced mobility, a disability or an ongoing health condition. Get it wrong and the effects of poor posture can seriously exacerbate both your mental and physical health conditions.

By evaluating your individual needs and situation with a free 60-minute seating assessment, we can ensure that we match you with a chair that is going to enhance your posture, comfort, overall wellbeing and general health.
Recliner Chairs and Beds can offer a free 3 step assessment to help you choose your perfect chair.
The right seating can literally transform your life when you are living with reduced mobility, a disability or an ongoing health condition. Get it wrong and the effects of poor posture may seriously exacerbate both your mental and physical health conditions.

By evaluating your individual needs and situation with a free 60-minute seating assessment, we can ensure that we match you with a chair that is going to enhance your posture, comfort, overall wellbeing and general health.
Recliner Chairs and Beds can offer a free 3 step assessment to help you choose your perfect chair.
Step 1 - Pre -assessment questionnaire
When you choose the free assessment we will make an appointment for us to visit you or for you to visit us.  Before this though we will have a 5 minute pre-assessment questionnaire over the phone to give us a good picture of what you need before we arrive.
Step 2 - In-person assessment
You can visit us or we can visit you at home, in hospital or in your care setting to carry out our in-person assessment. We bring a variety of specialist seating and accessories and we'll assess and measure you. At the end of the assessment we'll be able to recommend and agree the best chair for your needs.
Step 3 - Delivery and setup
Should you go ahead with our recommendation, we'll arrange delivery, setup your equipment and show you how to use it. If you need any support after your purchase our aftercare team are here to help.
VAT exemption allows chronically sick or disabled people to buy eligible items at 0% VAT thus saving them money. Disabled people do not have to pay VAT when they buy equipment that has been designed solely for disabled people, or on the adaptation of equipment so they can use it. Also, VAT is not charged on certain services provided to disabled people, including some building work to adapt a disabled person's home and the hire of disability equipment like wheelchairs.
Goods and services on which you do not have to pay VAT are often referred to as 'zero-rated' or 'eligible for VAT relief'. The rules about VAT relief for disabled people are complex. Not everything that is supplied to disabled people is zero-rated for VAT. 
What proof do we need to provide?
In order to waive VAT on your purchase, the government requires a simple declaration to be made as to the nature of your disability at the time of ordering. No proof of your disability need be shown to any party at any time.
It's very easy to claim VAT relief, all we need to know is the name, address of the person the item is for. We don't need a doctor's letter or any reference numbers.
If you are eligible for VAT exemption please
register here
first before you checkout and then all you need to do is login on checkout to claim your exemption
Displayed Prices
All prices displayed on our website exclude VAT. If VAT is charged this will be calculated on checkout.
Who is eligible for VAT relief?
VAT law states that you must be 'chronically sick or disabled' to qualify for VAT relief.
A person is 'chronically sick or disabled' if they either:
    have a physical or mental impairment that has a long-term and severe effect on their ability to carry out everyday activities
    have a condition that doctors treat as a chronic sickness - like diabetes, for example
    are terminally ill
A person with a temporary injury like a broken leg would not qualify, nor would a frail older person who is otherwise well and not disabled.
Things to Remember
We do NOT decide if an item is or isn't exempt and we don't make any more or less money if we charge you VAT or we don't charge you VAT. If you do not register for VAT exemption, or you are not eligible for VAT relief, we are obliged to charge you the full prevailing VAT on the whole of your order.
Not all products are eligible for VAT relief, so we are obliged to charge VAT at the prevailing rate for those products that are not VAT exempt. Postage charges are not eligible for VAT relief.
More information
You can find out more about VAT relief for disabled people on the HM Revenue & Customs website. If you cannot find the answer to your questions there, you can call their Charities Helpline, which covers VAT relief for disabled people.
Telephone: 0300 123 1073
The helpline is open 8.00 am to 5.00 pm, Monday to Friday. It is closed at weekends and bank holidays.
Over 50 Years Experience
FREE delivery for orders over £100 (excluding VAT)
Here for Advice Phone:
0115 8800 110
VAT Exemption available